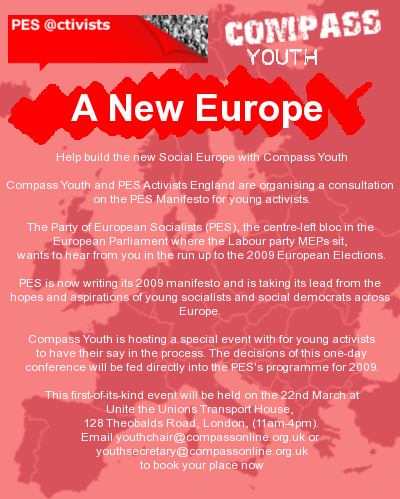 PES Manifesto & Compass Youth Activist Conference
"It's your future, let's shape it together"
Compass Youth are putting on an activist conference at the central London HQ of the Transport and General Workers Union (now Unite the Union).
Help build a new social Europe with Compass Youth
Saturday 22nd March @ 11.00 - 4.00 pm
Transport House, 128 Theobald's Road, WC1X 8TN, London (check map)
This will be the biggest event of the PES Manifesto series and a chance for Compass Youth activists and young socialists from across the country and abroad to meet, share ideas and hear about our exciting campaigns planned for the rest of the year- and how to get involved as an activist! We will be putting together all the ideas submitted both online and during this event to the PES Manifesto! Miss it miss out!
Get inspired: We have a fantastic range of speakers, including:
Neal Lawson, Chair of Compass Nationally

Julian Scola, Communications Advisor - Media & Campaigns for the PES

Stella Creasey, Head of Research and Development for Involve & PPC for Walthamstow
Louise Bamfield, Senior Research Fellow for the Fabians & Commission for Life Chances & Child Poverty
Ama Uzowuru, Vice President for Welfare for National Union of Students
Matthew Collins, Director, Operation Red Wedge & Searchlight
Sayyeda Salam, Director of Development for One Voice Europe

Sue Ferns, Unions 21 (Chair)

Raj Jethwa, Policy Officer for the TUC and Candidate for the European Parliament
Alejandro Olmos Marcitllach, Spanish Socialist Youth (JSE)
Ben Folley, Campaigns Officer, CND

David Taylor, Health & Education For All Campaigner, Oxfam

Would you like to facilitate a workshop on a issue that you are passionate about or a skill you want to share with us? Is there an issue or skill you would like us to do a workshop on?

We are developing issue/skills networks to provide the space for innovative ideas that influence government and practical solutions for our communities, but most importantly enable you to meet other members and help shape what we do in the areas you are interested in. Email noel.hatch1@gmail.com